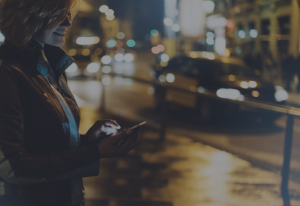 Mobile app provider leads the way for parking payments along Metro North Rail 
New York, NY (Jan. 23, 2018) — Charlotte, North Carolina-based fintech company, Passport, which recently raised $43 million from Bain Capital Ventures to help accelerate its growth, has secured 34 parking lots along the Metro North Rail line in New York. The free PassportParkingⓇ mobile app now enables drivers to conveniently pay for their parking at more than 15,000 parking spaces in lots managed by LAZ Parking along the rail line.
Passport's regional footprint extends between Buffalo, Albany and White Plains providing mobile payments for parking. The PassportParking app can be used to monitor and extend parking sessions remotely, receive alerts and notifications about parking sessions, view payment history and receive emailed receipts.
"Our cloud-based platform ensures a hassle-free parking experience and enables a one-stop shop to optimize parking management for our partners, by leveraging real-time data," said Passport Chief Revenue Officer Khristian Gutierrez. "We are excited to be offering our state-of-the-art technology to commuters using Metro North facilities as part of nearly 90 million trips per year."
According to the New York Times, by the end of 2020, the Metropolitan Transportation Authority plans to have its entire system updated with riders using contactless bank cards, smart cards or their own smartphones to pay for a subway or bus ride. Passport has already ushered in mobile technology in New York City, providing nearly 20,000 digital permits for the New York City Housing Authority to enable residents to conveniently purchase and manage their permits online through Passport's system, as well as the ParkWhitePlains mobile app in White Plains.
"Passport was able to offer us a fully integrated mobile solution to help us manage our parking operations better with mobile payments, digital permits and citation management software," said Eric Siskind, senior vice president of LAZ. "Metro North riders can now easily pay for their parking on the go with the PassportParking app or manage their permits online."
The PassportParking app can be downloaded from the App Store and Google Play, while permits can be purchased and managed at rrparking.com, which is home to all other Metro North Rail parking information. Customers who used the former provider will need to upgrade their parking experience to PassportParking to pay with a mobile option.
About Passport
Passport transforms the way cities manage their operations. The fintech company's mobile-first platform has been adopted by more than 450 cities, universities and private operators around the world in cities including Chicago, Toronto, London and Miami, across more than 5,000 locations. Passport's product lines —– parking, transit and tolling payments, parking enforcement and permit management —– enable organizations in the public and private sectors to streamline their operations, enhance customer service and make data-driven decisions. Consistently recognized as one of the fastest growing companies and Best Places to Work in Charlotte, North Carolina, Passport has an ingrained practice of putting People First —– a guiding principle in its Culture.
Passport is backed by a group of investors, including Bain Capital Ventures, Grotech Ventures, MK Capital and Relevance Capital. Learn more, or get in touch with Passport at passportinc.com.
###
Media Contact:
Stacy Sneed
Marketing & Communications Manager
Passport
(704) 823-6021
stacy.sneed@passportinc.com