Try, Try Again: Uncle Sam Wants … Parking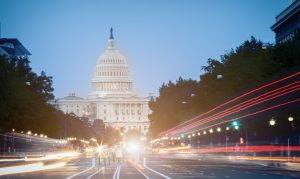 Editor's note: This post, which was published earlier in the week, was a bit thwarted by circumstances out of our control. We heard from lots of you that you'd like to see the document linked at the end, which was unavailable during the federal government shutdown, so we're republishing it. Thanks for getting in touch!
By Shawn Conrad, CAE
The Washington D.C., metro area's largest employer is the federal government. D.C. and its suburbs are home to the headquarters of many U.S. government agencies, monuments, and museums.
A recent parking study by the U.S. Department of Transportation for the National Capital Planning Commission states, "While travel time, cost, and demographics ultimately determine transportation mode choices that individuals make, perhaps no aspect of the built environment affects travel decisions more than the availability of parking."
For a complete view of how the federal government is incorporating parking into its overall transportation plan, read the full report here.
Shawn Conrad, CAE, is IPI's CEO.