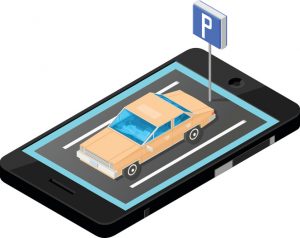 By Nathan Donnell
For any driver, the parking experience is often one of frustration. In downtown areas, drivers typically circle the block several times hoping a parking space opens up. Drivers naturally try to park at the closest lots to their destinations, which can lead to over-filled lots with gridlocked entrances.
The average driver in the U.S. wastes more than 17 hours per year searching for parking, resulting in $375 million in wasted time, fuel, and emissions. Cities are negatively affected by the increased traffic and CO2 emissions caused by uninformed drivers.
The difficulty drivers face when searching for parking is not caused by a lack of available parking, but rather by a lack of real-time parking occupancy information. A recent survey of 18,000 drivers found that 71 percent experience problems finding parking away from home.
Additionally, 90 percent of drivers said they want access to real-time parking availability information. For parking data to be truly useful, drivers need to know not only where parking exists, but more importantly, where spots are currently available.
In the past, companies relied on integrating directly with parking equipment makers to pull real-time occupancy information for lots and metered streets. This provided an early solution to help drivers but there were some limitations. Cities don't typically install equipment on every single space so the data wasn't standardized.
Today, companies are leveraging machine learning and predictive analytics to decode massive amounts of big data and calculate occupancy with a high degree of accuracy. This provides a scalable solution, helping drivers easily find parking in cities as big as New York or as small as Santa Monica.
Nathan Donnell is director of INRIX Parking Services.