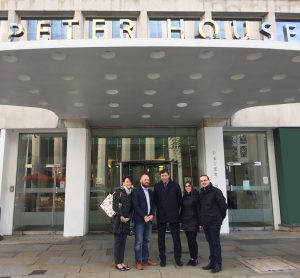 ParkCloud has finalised a new partnership with ViaMilanoParking – Official Milan Airport Parking part of SEA Milan Airports to make all the car parks at both Milan airports Milano Linate and Milano Malpensa available on its global parking booking platform. 
The deal was agreed at ParkCloud's Manchester headquarters in November, and means the company's near 3 million users will be able to book spaces in all the official on-site car parks at Malpensa and Linate airports. 
At Milano Malpensa Airport alone – known via its code MXP and as Northern Italy's gateway to the world – some 9,000 spaces will become accessible via ParkCloud, across five car park categories: P1 Long Term, P2 Executive, P3 Express, P4 Holiday and P5 Easy. Both indoor and outdoor parking spaces are on offer, to satisfy different customers' needs. 
Milano Linate Airport (LIN) will come on stream simultaneously, with options to include P1 Top Class, P2 Executive (undercover) and P2 Holiday (open air). Moreover, initiatives such as the new meet and greet service will also be added to ParkCloud's pre-book network. 
A phased roll-out is in progress, and crucially an exclusive launch offer has been negotiated by the ParkCloud team. 
The two airports, alongside nearby Bergamo – where ParkCloud has worked with the airport since 2014 – serve the Milan metropolitan area. Known as Grande Milano ("Greater Milan"), it is the largest metropolitan area in Italy and the 54th largest in the world, and as such, represents arguably the largest catchment area in the country for drivers wishing to make use of airport parking facilities. Moreover, it is anticipated that demand for pre-booking such services online will triple over the next 5 years. 
ParkCloud's Managing Director, Mark Pegler, said: "SEA Milan Airports is an internationally-renowned airport operator with control over the entire local region. We are clearly delighted to be partnering with this industry giant, and the new collaboration will enhance the airport experience for many passengers, presenting them with additional options to pre-plan more elements of their journeys. 
"Milan is a prime destination for us to continue to grow our network and we anticipate a successful and prosperous partnership with SEA Milan Airports going forward." 
To find out more about ParkCloud or to reserve a parking space for your next trip, please visit www.parkcloud.com.     
About ParkCloud   
ParkCloud, simply put, lets drivers book a parking space in advance, in the same way as it's possible to do with hotel rooms, restaurant tables…and even a coffee these days.    
When travelling, parking is usually the last thing on anybody's mind, but research shows that as much as 20 minutes is wasted when searching for a parking space. ParkCloud aims to solve that problem by letting customers make a parking booking, whether they are getting on a plane, taking a cruise, catching a train, or visiting a city or event.    
ParkCloud was founded in 2008 as an online parking reservation service and within the nine years we've been operating our success and growth has been rapid; we've gone from one country to over 40 – and we don't plan on slowing down.    
Today we are an award-winning, global provider, working with car park operators include them on our comparison search engine, which aims to give consumers the most user friendly, efficient service possible when they need it most.     
This bookable parking network is also made available to travel industry partners to help complete the itineraries of passengers worldwide.     
Winner of Queen's Award for International Trade    
PR Contact Details     
ParkCloud     
Gemma Killackey     
PR & Communications Officer / gemma.killackey@parkcloud.com     
07904287029