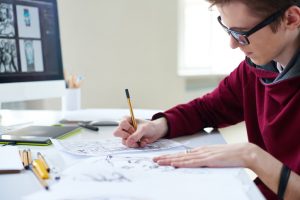 Ford's F-150 pickup truck is the best selling vehicle in the U.S., and the automaker doesn't take changes to it lightly. So when it started bouncing around ideas for a redesign, it turned to the future in more ways than one by asking students how they'd change the vehicle for the better.
The students at Detroit's College for Creative Studies didn't disappoint, offering ideas from selling the truck in modular pieces to let buyers customize, to making it smaller and more efficient, all the way to a design that looks more like a race car than a pickup truck but maintains the F-150's valuable cargo space.
Ford's designers say they were impressed and may incorporate some of the student's ideas—a robotic arm, for example—into future models of the truck. Read the whole story here. And by the way, Ford isn't the only one looking to students for innovative transportation ideas. IPI's second Parking Solutions Competition is in full swing, recruiting student ideas for the garage of the future to be presented at the 2018 IPI Conference & Expo in Orlando, Fla, in June. Calling your institution's students, perhaps?