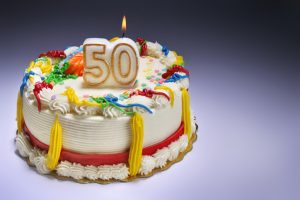 By Michelle W. Jones, CMP
I was born in November 1967. "Incense and Peppermints" by Strawberry Alarm Clock had the No. 1 single. The Vietnam War was in full swing. Carl B. Stokes was elected mayor of Cleveland, Ohio, becoming the first African American mayor of a major U.S. city. I remember none of these things.
I do remember wearing peace sign earrings in the 1970s, and celebrating the Bicentennial in 1976. I remember watching the Roots miniseries on TV and going to see Grease and Star Wars (the real one) at the movie theatre. I remember spending many weekends at Skateland in the 1980s. I rocked anti-gravity bangs and neon pink shoelaces. I loved Prince, Madonna, and Bon Jovi. Seems like eons ago, doesn't it?
Now I'm 50. I've spent half my life married and even more years in the association industry. I'm fortunate to have a son, to have traveled the world, and to have met a lot of interesting people. As Joe Walsh sang, "Life's been good to me so far."
When you're a kid, 50 sounds ancient. (So did 30 for that matter!) Funny how that needle moves. Now 60 doesn't sound old to me. I don't feel 50. I don't think I look 50. It's just a number. It doesn't change who I am. Besides, 50 is only 14 in Scrabble. (Wink!)
Michelle W. Jones, CMP, is IPI's director of convention and meeting services.