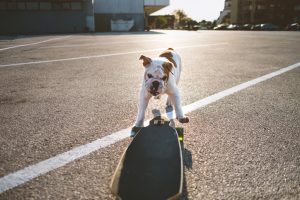 By Helen Sullivan, APR, Fellow PRSA
Yes, it's true, parking is expanding with new opportunities. Parking cars? So yesterday.
Parking dogs. Hip! The New York Times calls it Pooch Parking in this article about a new service that allows dog owners to house their furry friends temporarily (like when they pop into a shop and don't want to tie a dog to a parking meter outside).
The parking doghouses "cost 20 cents a minute, are temperature-controlled, cleaned daily and have webcams inside." The New York Times reports the company behind this is Dog Parker and they have already infiltrated Brooklyn, with expansion plans for other parts of New York before the new year.
Dog lovers in the Big Apple have mixed reviews. As a dog lover myself, I will say I've never felt comfortable with the idea of leaving a dog tied to a pole outside a shop. I'd be so afraid of someone stealing my dog, or of some harm coming to him.
Helen Sullivan, APR, Fellow PRSA, is IPI's communications counsel.