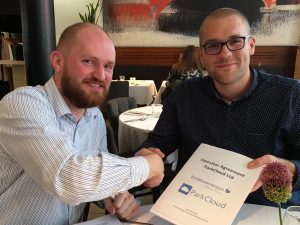 Global online parking reservation provider, ParkCloud, has agreed a new partnership with Eindhoven Airport to offer its parking reservation services to the airport's 5.7 million annual travelers.
ParkCloud will offer pre-bookable onsite parking at Eindhoven Airport's five car park sites, which are situated at various locations around the terminal, via its extensive online database.  
The advantage of pre-booking a parking spot prior to travelling, will allow customers to reserve and choose from a range of convenient parking options at a price point that suits their budget and duration of travel.
Passengers travelling from the second largest airport in The Netherlands can jet off to over 75 mainly European destinations through a variety of airlines.
Jaap Verheijen, Account Manager for Parking & Mobility Services at Eindhoven Airport, said:
"We're continually building upon our service offering for customers and expanding our range of facilities to ensure all passengers have a care-free and pleasant 'Always Easy'experience with Eindhoven Airport. 
"Partnering with ParkCloud has strengthened this approach, allowing travellers parking with us to pre-plan their journey ahead of their flights, giving them one less thing to think about and ensuring an enjoyable trip all round. We're looking forward to building upon our collaboration with ParkCloud and exploring opportunities to drive additional revenue in the near future."
Parking reservations for Eindhoven Airport will also be available to book through Wizz Air's online platform.
To find out more about ParkCloud or to reserve a parking space for your next trip, please visit www.parkcloud.com. 
About ParkCloud    
ParkCloud, simply put, lets drivers book a parking space in advance, in the same way as it's possible to do with hotel rooms, restaurant tables…and even a coffee these days.  
When travelling, parking is usually the last thing on anybody's mind, but research shows that as much as 20 minutes is wasted when searching for a parking space. ParkCloud aims to solve that problem by letting customers make a parking booking, whether they are getting on a plane, taking a cruise, catching a train, or visiting a city or event.  
ParkCloud was founded in 2008 as an online parking reservation service and within the nine years we've been operating our success and growth has been rapid; we've gone from one country to over 40 – and we don't plan on slowing down.  
Today we are an award-winning, global provider, working with car park operators include them on our comparison search engine, which aims to give consumers the most user friendly, efficient service possible when they need it most.    
This bookable parking network is also made available to travel industry partners to help complete the itineraries of passengers worldwide.   
Winner of Queen's Award for International Trade  
PR Contact Details   
ParkCloud   
Gemma Killackey   
PR & Communications Officer / gemma.killackey@parkcloud.com   
07904287029