Member News: High Concrete Group and AECOM Tishman Host "Topping Off" at Verizon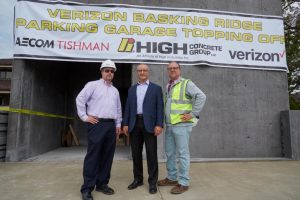 September 13, 2017
Celebrates precast parking garage for Basking Ridge HQ expansion
BASKING RIDGE, N.J.—High Concrete Group LLC celebrated the structural completion of a new 246,906 square foot parking garage for Verizon's Basking Ridge headquarters. The four-story precast concrete structure will provide an additional 755 parking spaces for employees and visitors at Verizon's North Maple Avenue office complex.
Representatives of High Concrete Group, Verizon, the New York office of architecture firm Gensler, and general contractor AECOM Tishman attended the event, which highlighted the erection of the last piece of precast concrete that "topped off" the garage.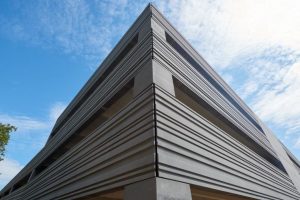 "We were impressed with the speed and efficiency of precast concrete," said Gensler designer Keith Kelly. "For the interior, we chose High Concrete's K-walls for shear support to increase visibility and safety during use." The garage floor is comprised mainly of 16'-wide precast double tees, the widest in the industry, which ease erection and contribute to driver comfort.
"High Concrete was integral from day one, assisting the design team from fine-tuning the custom color to coordinating best practices. With great ease, they were able to deliver quickly and efficiently," said Kelly.
Located at 1 Verizon Way, the project added three floors on top of an existing parking lot for visitors. In total there will be 1,105 parking spaces, including 680 for employees and 425 for visitors. The garage will also have 7,550 square feet of connectors to link it with Verizon's 1.4-million-square-foot office complex.
"This is an important project for Verizon and for Basking Ridge," said Bob Pabst, Vice President of Sales and Marketing. "This garage will enable Verizon to realize its growth objectives, delivering quality performance with minimal maintenance for many years. All of us at High Concrete Group are delighted to be a part of it."
About High Concrete Group LLC
Headquartered in Denver, Pa., High Concrete Group's products include architectural facades, insulated and structural enclosure systems, parking garages, stadiums, and other precast structures for commercial, institutional, and multi-unit residential applications. Employing more than 400 co-workers, the group has provided precast components for more than 5,500 projects since 1957. High Concrete Group operates plants in Denver, Pa. and Springboro, Ohio; and High Concrete Accessories, a Denver, Pa.-based national precasting embedment supplier. For more information on High Concrete Group, including employment opportunities, visit www.highconcrete.com or e-mail to concrete.answers@high.net.
# # #
Dave Nicholas
717.293.4545
dnicholas@high.net