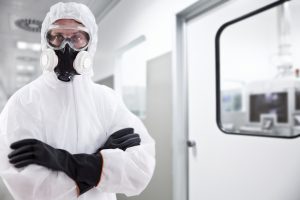 By Kathleen Federici, MEd
"The More You Know" campaign is a series of public service announcements broadcast on NBC. I have found this campaign slogan to be more true than most. Faced with a new situation or challenge, it is best to confront it with gusto. The more you know, the more informed you are to make better and more educated decisions.
I have had many roles in my career. I don't change jobs frequently. Since I graduated college 22 years ago, I have only worked for four organizations. However, within those organizations, I have held various positions and roles.
I never thought my role as an ANSI commissioner, going to sugar and flour factories (donning a fire-retardant hazmat suit, protective eyewear, and construction helmet) to go into the explosion room and experience sugar and flour dust explosions would ever come in handy again. The more you know—because of that role, I have been able to confront fracking pipeline construction managers who are drilling 50 feet from my children's school about the explosive, carcinogenic dust that the children might inhale as they play outside. Our department of transportation requires daily street sweeping during pipeline drilling and due to traffic patterns, this has to occur between 9 a.m. and 3 p.m. for the next two years—the exact times the children are in school. On behalf of our school, I have been able to negotiate with the union on break and lunch times so that the required street sweeping and resulting dust elevation is not conducted during the children's outside recess times.
Get out there and get educated on everything you possibly can. Experience every positive or even unfamiliar opportunity possible, including topics as uncommon as flour and sugar dust explosions. Because the more you know, the better you can make this world by educating others.
Kathleen Federici, MEd, is IPI's director of professional development.