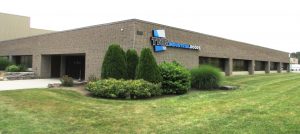 Burgettstown, PA – Hörmann, headquartered in Germany, announced the purchase of TNR Industrial Doors, Inc. located in Barrie, Ontario, Canada. The acquisition reinforces Hörmann's strong worldwide growth to 28 manufacturing facilities, totaling four integrations since 2006 in America: the purchase of GADCO, Montgomery, IL, in 2006 (now called Hörmann LLC); then in 2007 with the purchase of Flexon, Inc., Burgettstown, PA (now Hörmann High Performance Doors); and in 2015 further expansion with the acquisition of Northwest Door LLC, Puyallup, WA.
Now, with the recent acquisition of TNR Doors, Inc., Hörmann aims to further expand their high performance door presence in Canada, U.S., Central America, the Caribbean, and beyond.
Manufacturing at the Hörmann High Performance Door facility located in Burgettstown, PA, U.S., will continue as usual, with further expansion of 150,000 sq. ft. to begin Fall 2017. TNR Industrial Doors, Inc. will continue to manufacture their line of rubber doors and miscellaneous fabric and high performance door models. ″This will enable both companies to offer an expanded range of doors to their customers," commented Christoph Hörmann, Managing Partner of the Hörmann Group. Mr. Hörmann continued, "We are gaining another long-established company, and with its location in Canada, will allow further growth within the high performance door market in America and beyond."
Hörmann is one of the world's leading high speed roll up door manufacturers and a global leader in today's building components industry. The family's name has become synonymous with brand quality, with products covering a wide range of doors for industrial, commercial door and residential applications. Constant innovation, quality assurance and close proximity to customers are the keys to the company's permanent growth and lasting success. Operated by the third and fourth generation, the grandson and great grandsons of the company's founder, Hörmann currently serves customers in more than 40 countries with a multitude of quality products.
Contact: Alice Permigiani – Marketing Director
Phone:   (800) 365-3667, ext. 323
Email:     a.permigiani@hormann.us