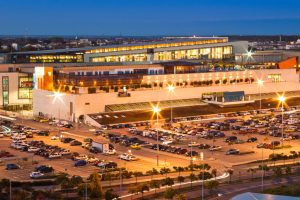 By David M. Feehan
As suburban areas seek to become more urbanized, the question of whether to charge for parking has become more difficult and conflicted.
I'm working with two suburban business districts in the Washington-Baltimore area, and both have for decades offered customers free parking. Now, as each seeks to emulate nearby walkable downtowns and as density increases, developers and public officials are wrestling with the parking issue.
According to Reston Patch, "Reston Town Center [a Northern Virginia planned community] … is making parking free again during the evenings on weekdays as well as offering a free hour during the day to shoppers. The change comes roughly six months after a fee was imposed."
As we all know, parking is never free—it's just a question of who pays for it, and how. The cost of mall parking is hidden in store leases. Mall customers don't seem to realize that they are paying for free parking, and they seem to prefer it that way. They don't want to think about parking and the hassles that go with a paid parking system.
As more developers add structured parking to their developments, some are moving to paid parking with free evening and weekend parking or first-hour-free systems. Developers and public officials have to remember that women are their most important customers, making or influence more than 80 percent of retail purchases, residential decisions, and health care decisions. In a survey I did as part of a book I'm writing, women said parking garages were the most disliked aspect of going to a business district.
Maybe the answer is two-fold. First, make sure that parking structures are clean, safe, and well-lighted. And then, perhaps a partnership with EZ Pass might make the cost less visible.
It's just possible that suburban business districts may lead the way to solving the parking dilemma, just as malls did 60 years ago.
David M. Feehan is president of Civitas Consultants, LLC.