Private Parking Meters Appear in Tourist Town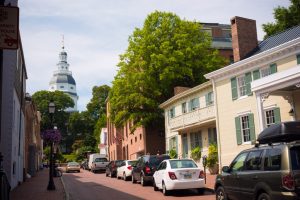 Annapolis, Md., is known for its quaint waterfront, outstanding dining and shopping, and sometimes, its lack of obvious, available parking options. Now, some owners of private lots are installing parking meters for visitors to use after business hours and on weekends, when the businesses are closed and the lots can help ease the parking crunch and generate some income.
The lot owners have largely contracted with one company to install the meters, police the lots to ensure time limits are respected, and pick up trash that accumulates after-hours. Town residents who are used to parking for free at night and on weekends have voiced their displeasure on social media, but business owners say the new meters have helped them share their lots without losing spaces during operating hours and made legal parking easier to find.
Save