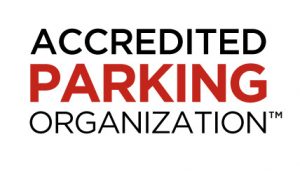 The Accredited Parking Organization (APO) establishes national and international standards for professionalism, accountability, innovation, responsibility, and performance.
(New Orleans – May 2017) At the International Parking Institute (IPI) Conference & Expo this week, seven parking organizations became Accredited Parking Organizations (APO) or earned APO with Distinction.
APO, developed by the International Parking Institute (IPI), is a certification for parking organizations that have achieved a comprehensive standard of excellence. APO recognizes best practices in responsible parking management and operations, customer service, professional development, sustainability, safety, and security.
"This is a difficult accreditation to achieve and organizations should rightfully feel proud about this accomplishment," says Shawn Conrad, CAE, IPI's CEO." Both the parking industry and the public will benefit from the Accredited Parking Organization designation."
To become an APO, an organization must demonstrate its commitment to ongoing evaluation and improvement of program outcomes through the implementation of industry best practices. Applicant organizations work with third-party reviewers to organize and present evidence of accomplishment of 250 criteria in 14 categories related to industry best practices. To achieve the APO with Distinction, an additional set of criteria must be met.
The APO was developed to be applicable to institutional, municipal, medical, university, airport, private, and other parking programs. Organizations must re-certify every three years to maintain the designation.
Joining the ranks of APOs or APOs with Distinction this May are:
Accredited
City of Asheville Parking Services Division
Premier Facility: Biltmore Parking Facility
Lexington & Fayette County Parking Authority
Premier Facilities:  Victorian Square Garage, Helix on Main Garage, Transit Center Garage
Virginia Beach Parking Management Office
Premier Facilities: 25th Street Garage and Town Center Garage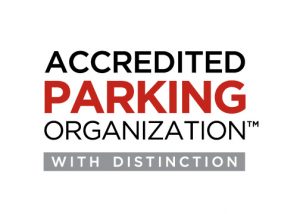 Accredited with Distinction
Dallas Fort Worth International Airport
Premier Facilities: Terminal A Garage, Terminal D Garage, North Express Surface Lot
Public Parking Authority of Pittsburgh
Premier Facilities: Third Avenue Garage, Smithfield Liberty Garage, First Avenue Garage
Texas A&M University Transportation Services
Premier Facilities: Cain Garage, Parking Lot 24, Parking Lot 54
Accredited with Distinction
SP+ (the first commercial operator to become an APO last year, has now achieved APO with Distinction)
Parking organizations interested in becoming APOs can download information, including the 35-page APO Manual for Applicants, at parking.org/apo. For more information, contact Rachel Yoka at yoka@parking.org.
# # #
Media Contact:
Helen Sullivan
703.606.7622
sullivan@parking.org