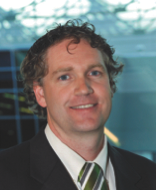 (New Orleans – May 18, 2017) – The International Parking Institute (IPI) has named JC Porter, CAPP, assistant director of Parking & Transit Services at Arizona State University, its 2017 Emerging Leader of the Year.
Porter commutes by bike to work each day – a 40-mile round trip. At ASU, he opened bike valet stations where attendants parked more than 30,000 bicycles on campus and spearheaded efforts to add bike boxes at several intersections on campus, sharrows along campus and adjacent city streets, and a contra-flow bike lane along one of the most heavily bicycle-traveled streets leading to the university.
Soon after Porter's arrival at ASU, the Tempe campus was designated a Gold-level Bicycle Friendly University by the League of American Bicyclists, and he earned recognition from the City of Tempe, which also earned Gold-level status from the League.
Porter also oversaw ASU's transition to a new car-share provider, which lowered the hourly rate for students and offered international students the ability to use their home country driver's licenses. Last January, he introduced the university's intercampus shuttle system to a new provider; passengers now enjoy riding on double-decker buses complete with Wi-Fi, GPS tracking, electrical outlets, and USB ports on trips between ASU's four campuses.
Under Porter's leadership, the appeals office was reorganized and is now comprised of student staff, cultivating a peer-to-peer experience for Sun Devils.
Porter has captured numerous honors from local, national, and international parking and transportation associations.
The International Parking Institute is the world's largest association of parking professionals and the parking industry.