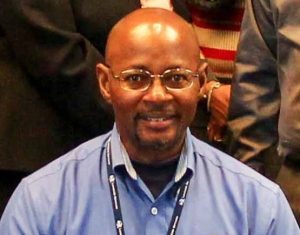 Airport's Landside Services Agent Honored with Award
(New Orleans, La. – May 15, 2017) — The International Parking Institute (IPI) has announced that Roger Finch, Landside Services Agent II at Denver International Airport, has been named its 2017 Parking Staff Member of the Year.
Finch began his career with Denver International Airport (DEN) Parking and Transportation in 1999 and has demonstrated exemplary customer service and a willingness to go above and beyond.
His deep knowledge of the Americans with Disabilities Act (ADA) helped ensure facility compliance and improve access for customers with special needs. Finch led a project to accurately map DEN's more than 50,000 parking spaces for the people with disabilities in 10 facilities, and worked with several airport partners to digitize facility maps to ensure ease of use. His dedication to the disabled community is reinforced by his years of volunteer service with the city and county's disability parking enforcement program.
Finch also helped design a new system to track space closures during construction projects and more efficiently document and track data.
From helping customers find their vehicles to ensuring they arrive at the terminal on time, Finch consistently epitomizes customer service, earning him a 2014 DEN Star of the Quarter award.
Finch's award will be presented at IPI's 2017 Conference & Expo in New Orleans, La., May 21-24.
# # #
Media contact:
Helen Sullivan
703.606.7622
sullivan@parking.org