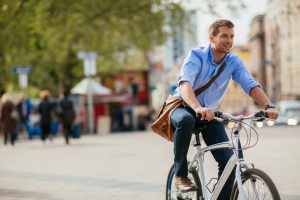 By Ron Steedly, CAPP
Last week, Texas A&M University had "A Day To Ride," our branded version of bike to work/school day (we like to have it while the students are on campus rather than in May when no one is around). We tie it to our Earth Week celebrations to raise awareness about sustainability and the benefits of the pillars (people, planet, and profit) on which we should focus.
While riding my bike all over campus that morning checking on our re-fueling stations and talking to bike commuters, I found one common theme: People who bike enjoy it. There's no logic influencing their choice, no sustainability data pushing them over the edge to bike, and no one mentioned it was right thing to do. Some secondary reasons were given—it saves time, people get around faster, saves money, etc.—but those were never the primary reason. That intrigued me.
I rarely get to bike around all morning, but I did that day. I was a bit tired but felt great. I thoroughly enjoyed my morning, being out and about; the weather was perfect and I was interacting with the Aggie community. I looked at my bike app when I was done and found I rode about 20 miles—I had no idea it was that far.
So I enjoy biking and it makes me feel good and happens to be sustainable.
Dig your bike out of your garage and ride it. If you find you enjoy it then ride it some more. Maybe bike to work or errands sometimes and leave the car at home. You will be glad you did because it will make you happy. Who doesn't want to be happy?
Ron Steedly, CAPP, is alternative transportation manager at Texas A&M University.