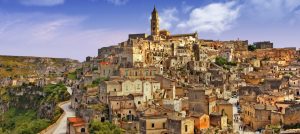 March 17, 2017
Adding to an already extensive list of Italian cities – now totalling 24 – ParkCloud is very pleased to have added Matera to its directory. Offering spaces at a car park suitable for parking in the city centre and at the train station, ParkCloud is further cementing itself as the leading provider of parking reservation in Italy.
Matera is a city and a province in the region of Basilicata, in Southern Italy. Known as "la Città Sotterranea" (the Subterranean City) Matera is well known for being one of the oldest inhabited cities in the world. From The Sassi – the ancient town – to stunning monasteries and churches, Matera is very popular with tourists, and has even been declared Italian host of the European Capital of Culture for 2019.
The new car park available to book through ParkCloud is perfect for those wanting to explore the city – located just a few meters away from Vittorio Veneto Square, the Commercial avenue, the station and the entrance to The Sassi mentioned above. Offering undercover, secure and guarded places to travellers wanting to leave their vehicle in the heart of Matera, the car park is open from 7.30pm to 9.30pm. Close by Matera station, it is also conveniently located for those boarding a train from Matera station.
With a list of over 200 car parks now available in Italy, ParkCloud looks forward to furthering its options in the country and expanding to new locations there soon.
About ParkCloud
ParkCloud, founded in 2008, lets drivers book a parking space in advance, in the same way as it's possible to do with hotel rooms, restaurant tables… and even a coffee these days.
When travelling, parking is usually the last thing on anybody's mind, but research shows that as much as twenty minutes is wasted when searching for a parking space. ParkCloud's award-winning service aims to solve that problem by letting customers make a parking booking, whether they are getting on a plane, taking a cruise, catching a train, or visiting a city or event. In 40 countries and counting!
Contact Details
Grace Scott
PR & Communications Executive
grace.scott@parkcloud.com