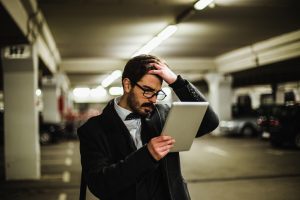 By Victor A. Hill, CAPP, MPA
Seriously. Google it and the first result is a blog post about anticipatory car park anxiety.
So how do we mitigate it? Let's start a conversation. I'm interested in common concerns expressed by customers and it would be great to hear from operations of all sizes. Certainly, parking operations in more urban areas may experience this type of feedback more frequently, but even a university our size—about 10,000 students—has customers who suffer from parking anxiety. Several companies have already created parking apps to help customers find spaces, but it'd be interesting to know what else is out there.
Commonalities may lead to best practices we can either formalize or enhance to reduce anxiety and increase customer satisfaction. Examples of concerns we encounter on our campus are from customers who dislike parking in our five-level ramp. Anecdotal feedback includes: spaces are too tight, ceilings are too low, too many cars park in the ramp, and fears of what's around blind corners. We rarely hear about anxieties experienced in surface lots because our campus is not particularly large. However, that same Internet search for parking anxiety leads to several articles and forum posts from people who experience obvious anxiety about parking, whether they are searching for a space, parallel parking, or avoid parking close to other cars.
Please share in the comments your experiences and ideas about how we can reduce anxiety and make the parking experience less stressful for our customers.
Victor Hill, CAPP, MPA, is the director of parking and transportation services at the University of Wisconsin-La Crosse.