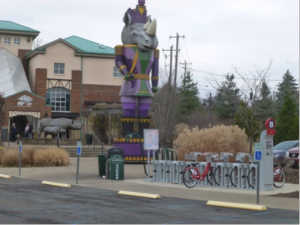 By Dan Ciarcia
Today's parking owners are innovating to maximize financial and environmental value while providing higher levels of service to customers. Parking designers are crafting solutions that capitalize on location, community, and water and energy resources. Owners are also embracing multi-mobility, alternative fuels, cycling, and connectivity to the community. These activities can significantly advance parking sites' environmental sustainability while increasing revenue and improving the user experience.
I was privileged to meet with the Cincinnati Zoo and Botanical Gardens' staff and Facilities Director Mark Fisher to assess the zoo's sustainability initiatives and welcome it as the USGBC's first official Green Surface Parking Demonstrator Site. The most exciting aspect of my review was experiencing the many green innovations the zoo holistically integrated into the overall design, addressing stormwater management, renewable energy, and alternative transportation while greeting patrons via a LEED gold welcoming pavilion. Compared to a traditional parking lot, the zoo's design has increased revenues and dramatically enhanced the visitor and community experience. Mark and his staff are demonstrating how to address water, energy, transportation, and social issues in a single space without sacrificing profit or performance.
Click here to read how a handful of parking sites, including the Cincinnati Zoo, are pushing the envelope on sustainability through the adoption of technical innovation and creative problem solving.
Daniel Ciarcia is the founder of Two Willows Consulting.