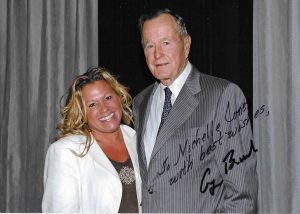 By Michelle W. Jones, CMP
Today is Inauguration Day and the D.C. Metro area is abuzz with activity and tons of visitors. Folks have been vigilant in their planning for transportation and parking. Some IPI members have been proactive in helping their customers have positive experiences on this overly congested day.
I've never attended an inauguration ceremony but I do enjoy watching them on T.V. I was very fortunate, however, in November 2007, to meet a former president. I was working the annual conference of another association at the time and during a special breakfast for our foundation donors, I met President George H.W. Bush. He motioned for me to come over. I turned around to look behind me to be sure he was talking to me. He was! We chatted for a few moments and I told him I lived in Florida. He glibly asked, "Do you speak well of your governor?"
When meeting famous people I normally get star struck and unable to speak, but with him I felt at ease. I'm sure he forgot who I was immediately upon leaving, but during our chat he was completely engaged—not distracted or looking past me. I walked away and burst into tears. It's not every day you meet a president!
On this Inauguration Day, I will look forward to watching (on television) a peaceful transition of power to our 45th President Donald Trump, along with seeing three of the five living former presidents: Bill Clinton, George W. Bush, and Barack Obama. I will keep President Jimmy Carter in my prayers. And I'll be making get-well wishes for my old friend "41," President George H.W. Bush, and his wife Barbara.
Michelle W. Jones, CMP, is IPI's director of convention and meeting services.