How Do You Measure a Year?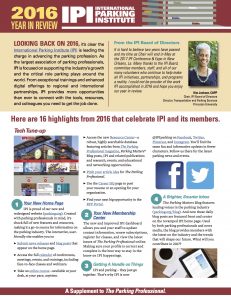 By Monica Arpino
Another year has passed and with it inevitably come goals and resolutions for the next one. But before moving on, it's important first to reflect on 2016 and the milestones already achieved.
One way to do that is by taking a cue from "Seasons of Love," a song from the hit Broadway musical Rent, which asks: "How do you measure a year? In daylights, in sunsets, in midnights, in cups of coffee, in inches, in miles, in laughter, in strife?"
In other words, consider the large and small moments that shaped your year. What will you remember and carry with you into the future?
IPI measures its year in many ways; chief among them are its continued efforts to help our members advance their careers and the parking profession.
Look back on IPI's past year — and glimpse what's ahead — with our 2016 Year in Review. The annual recap celebrates 16 highlights from 2016, including:
We can't tell you how much we adore our members and how grateful we are for this community of parking professionals. Thank you for inspiring, supporting, and leading the association this year.
And we'd love to know: How will you measure 2017?
Monica Arpino is IPI's special projects coordinator.