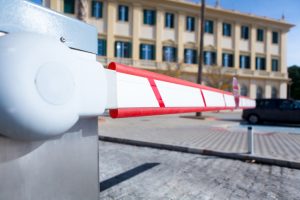 By Gorm Tuxen
There has always been a clear separation between private and public parking. Parking facilities have traditionally been either private and public—it has generally been difficult to permit private parking at certain times and public parking at other times in the same facility. However, modern vehicle access control technology provides a level of flexibility that was previously cost-prohibitive.

Smart parking access combines transponder, license plate recognition, and video technologies to permit parking managers to control access into a parking lot or structure. Regular users who are permitted into the facility at all times are provided RFID transponders, window stickers, or identification badges. The RFID technology provides instant access by triggering gates, bollards, or doors.
Access for those without the proper credentials can be managed by parking controllers, that can open an intercom connection with drivers wishing to enter the facility and manually open access gates using a secure web-based interface. In addition to managing access to the facility, controllers can use the same system to monitor vehicle and people identification readers, intercoms, overview cameras, and other access control and security equipment. Controllers are connected to a hosted service that runs on a data center. The server can be approached with any web-based client, and they remain operational even if the connection to the server is lost.
Why are these capabilities important? It's a matter of control and flexibility. Automated parking access and security technologies allow parking controllers to limit transient parking to assure that there are always enough parking spaces for leaseholders. Or in areas where security is of paramount importance, such as courthouses and government buildings, the systems can be used to assure that only authorized individuals or those who meet security requirements are permitted into the structure.
Technology is transforming the way parking is managed. Vehicle access control represents the next frontier of parking management technology.
Gorm Tuxen is director of business development for Nedap in the Americas.
Save