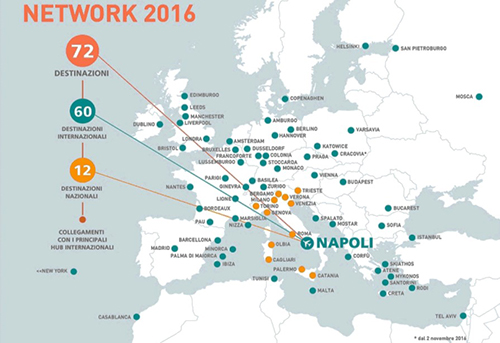 ParkCloud is very pleased to announce that Naples International Airport has chosen its marketing channels. The deal sees two busy car parks at the airport offered to all customers across the ParkCloud network, and are also included in a range of brand partnerships ParkCloud has in place.
Naples International Airport is located 5km northeast of the city in the Capodichino district of Naples. The airport has one terminal building, and serves a large volume of passengers – closing 2016 with over 6.7 million passengers.
Numerous different locations are reachable via Naples Airport, including Sharm el Sheikh, Tenerife and Palma Mallorca. Plus, Naples is very well connected to other cities in Italy and European capitals. Two car parks are now available on the ParkCloud reservation platform, – the P1 Long Stay and the Multi-Story Long Stay. The P1 is suited to travellers going away for longer, and is just a short 3 minute walk from the terminal. The Multi-Story is open 24/7, with manned cashiers from 6am to midnight, and is next to the terminal. The spaces will also be available to customers booking across a range of brand partnerships ParkCloud currently has in place – including airlines such as Wizz Air, Aegean Airlines, Blue Air, Vueling and Transavia.
ParkCloud is very pleased to see Naples join Bergamo, Genoa, Turin and Rome Fiumicino in the list of airports ParkCloud works with across Italy.
About ParkCloud
ParkCloud, founded in 2008, lets drivers book a parking space in advance, in the same way as it's possible to do with hotel rooms, restaurant tables… and even a coffee these days.
When travelling, parking is usually the last thing on anybody's mind, but research shows that as much as twenty minutes is wasted when searching for a parking space. ParkCloud's award-winning service aims to solve that problem by letting customers make a parking booking, whether they are getting on a plane, taking a cruise, catching a train, or visiting a city or event. In 40 countries and counting!
http://www.parkcloud.com
Contact Details
Grace Scott
PR & Communications Executive
grace.scott@parkcloud.com