2017 AOE Winner: SANDAG Regional Parking Management Toolbox, San Diego Association of Governments, San Diego, Calif.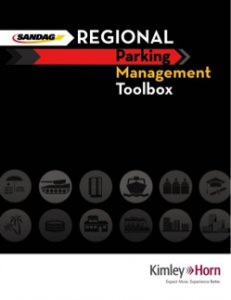 Category IV: Innovation in a Parking Operation or Program
SANDAG Regional Parking Management Toolbox
San Diego Association of Governments
San Diego, Calif.
Owner
In 2013, the San Diego Association of Governments (SANDAG) began the development of its comprehensive Regional Parking Management Toolbox, intended to be a process-driven tool that jurisdictions could use to determine specific parking problems, how to address them, and how to implement and manage strategies. In 2014, the agency unveiled the Toolbox and provided its members access to the online interactive document that walks them through:
Data collection and analysis processes.
Identification of specific problems.
Strategies to address problems and the intended benefits.
Marketing, education, and communication strategies.
Ongoing management options.
Case studies from peer and industry-leading jurisdictions.
The Toolbox provides the 18 cities and County of San Diego with best practices for managing parking in a variety of settings to help promote smart growth, sustainable development, and alternative transportation choices. Since its completion in 2014, cities in the San Diego region have demonstrated a greater understanding of the importance of parking management and are putting it to good use. For example, the City of Carlsbad is applying the Toolbox's complete step-by-step process to develop a comprehensive parking management plan for its Village, Barrio, and Beach communities. The City of La Mesa adopted an in-lieu fee program. The City of San Diego has also implemented innovative parking management strategies that encourage shared mobility.
The Toolbox consolidates lessons learned from peers into a thoughtful, process-driven approach that demystifies the concept of parking management for communities that are not well-versed in parking. It simplifies and explains the process of managing parking demands and operations and lays out meaningful strategies and the intended benefits of each solution.
While the Toolbox was developed for the communities in the San Diego region, its approach is limitless. The concepts and strategies defined in this approach do not relate only to the region, but to any community, university, or entity within our industry. The ideals laid out in the Toolbox are universal and meant to help any agency determine the next logical steps in the evolution of its parking program.
Project Participants:
Kimley-Horn and Associates, Inc., Consultant
Total Cost of Project: $100,000