2017 AOE Winner: Kustwerk Katwijk, Municipality Katwijk, Amsterdam, Noord-Holland, Netherlands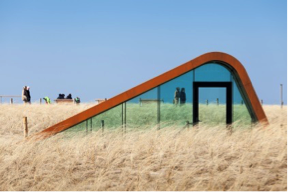 Category VII: Award for Architectural Achievement
Kustwerk Katwijk
Municipality Katwijk
Owner's Client
Katwijk, South Holland, Netherlands
The special parking garage in the Dutch town of Katwijk is an integral part of the town's new water defense system, protecting the town against the North Sea. The garage is situated behind a new dike and is located underneath a natural dune landscape.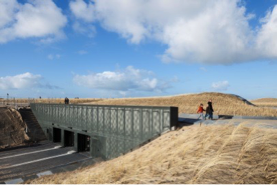 Integrating the parking garage with the water defense system not only protects Katwijk from the sea,
but also offers the tourists an opportunity to park directly near the beach.
Commissioned by the City of Katwijk, Royal HaskoningDHV drafted the architectural design of the parking garage and translated this into a thorough master plan. Based on this master plan, Ballast Nedam and ZJA drafted the integral design (architectural, functional, structural, and installation) for the realization of the parking garage. Special attention was given to the integration and materialization of the entrances in the dune landscape as one of the main principles of the architectural master plan and the public domain, which was designed by OKRA Landscape Architects.
The garage has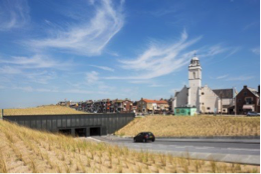 a capacity of 670 cars, which enter and exit the complex at both short ends. The upper dunes have a network of paths that connect five pedestrian entrances with the town and the beach. The five pedestrian entrances are harmoniously integrated with the dunes.
At the entrances, the dune landscape is lifted to create an obvious entrance, allowing the landscape an uninterrupted flow over the roof of the entrance. This gesture not only ensures that the character of the dunes stays intact, it also provides for the vital admission of daylight into the underground parking garage, benefitting orientation within the parking garage.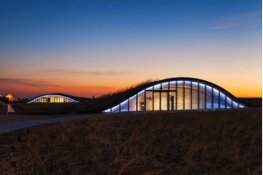 In the design, the underground car park is considered as a high-quality public space. This is subtly achieved by using a pallet of sturdy, qualitative materials. The guidelines from the master plan required a consequent corporate image and integrated wayfinding. A family of maritime-inspired icons and colors was designed in such a way to guide its visitors in a relaxed and natural manner toward either the center of the town or the beach.
Project Participants:
Ballast Nedam, Prime Contractor
OKRA Landscape Architects, Landscape Architect
Royal HaskoningDHV, Architect & Design Consultant
ZJA Zwarts & Jansma Architects, Architect
Total Cost of Project: $16 million