2017 AOE Winner: 1624 Queen Street West (Carpark 256) Green P+, Toronto Parking Authority, Toronto, Ontario, Canada

Category III: Best Design/Implementation of a Surface Parking Lot
1624 Queen Street West (Carpark 256) Green P+
Toronto Parking Authority
Toronto, Ontario, Canada
Owner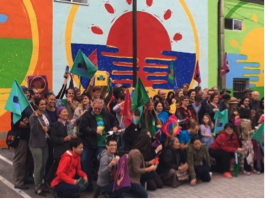 The Toronto Parking Authority (TPA) opened a new, green, 33-space surface parking lot at 1624 Queen Street West, Carpark 256, in 2015. This formerly vacant commercial property was redeveloped with the collaborative efforts of the Parkdale Village Business Improvement Area, the local community, Marton Smith Landscape Architects and the TPA.
Many green elements were incorporated into the final design, including permeable pavers to facilitate sustainable stormwater management; a tree planting layout to reduce urban-heat island effect; and a planting scheme chosen for its drought tolerance and seasonal interest. One pay-and-display machine accepts credit cards and cash while mobile pay lets users pay, track, and add parking time from their smartphones. LED lighting, low-profile plants, and regular patrols by security professionals help keep everyone safe and the lot is barrier-free for pedestrians. Tree cover and high-albedo pavers reduce heat and panels were installed that will accommodate electric-vehicle charging stations should they be desired in the future.
With TPA's support and in partnership with a community based initiative led by the City of Toronto's StreetArt program (a group that enables local artists to create murals that help decrease vandalism and illegal graffiti) the mural located on the lot's western boundary was created. Its design is a symbol to help galvanize the community and it proposes proactive strategies and actions, development without displacement, participatory democracy, decent work, food security, and shared wealth. The mural was designed by visual artists Sean Martindale, Alexa Hatanaka, and Patrick Thompson.
The lot and all features have been met with praise by the local community, particularly its creative and innovative aspects, and has provided inspiration for various other TPA projects in the design phase.
Project Participants:
Brutto Consulting, Planner
Councillor Gord Perks, Ward 14 Parkdale-High Park
Fabian Papa & Partners Engineers, Engineer
Marton & Smith Landscape Architects, Inc.
Mopal Construction, Contractor
Parkdale Neighbourhood Land Trust, Mural Partner, Community Lead
Street Art Toronto (stART) Program, Public Realm Section, City of Toronto Transportation Services
Total Cost: $350,000