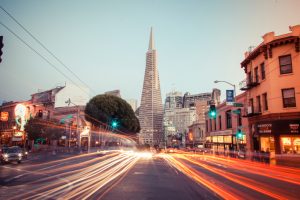 By Frank Nagle
A quandary for many municipalities with an aging transportation infrastructure—in this instance, public garages—is how to effectively integrate 21st century technology in to properties designed in the 20th century.
Such is the case for the City & County of San Francisco. With several of its municipal garages requiring mechanical ventilation system upgrades due to age and attrition, planning sessions for administrators and engineers focused on two, intertwined objectives:
Ensuring environmental sustainability.
Protecting the health and safety of garage employees and patrons.
The second part is relevant because advancements in technology make it possible to compensate for the limitations—and resulting hazards—inherent to older building operation systems.
City engineers were tasked with upgrading the mechanical ventilation systems at three municipal garages. California code now requires continuous ventilation in enclosed, commercial garages during occupied hours, marking a recent change in standard designed to ensure the health and safety of those in the garage and those who work and/or live above it, where applicable.
City engineers designed a mechanical ventilation system incorporating innovative fan wall technology deployed in conjunction with variable frequency drive (VFD) technology. Tying it all together is a digital, sensor-based, demand-control ventilation system, which controls the primary fan wall motor and VFD functions based on carbon monoxide concentrations in the garage(s).
Upgrades at two of the three garages are now complete, and ongoing energy monitoring shows the energy savings captured exceeds 600,000 kWh per year at each garage while providing continuous ventilation.
Based on the early returns, San Francisco is setting a solid example for municipalities to overcome the operational challenges presented by timeworn parking structures.
Frank Nagle is the principal partner at Nagle Energy Solutions.
Save