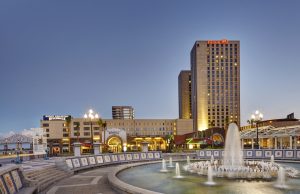 By Michelle W. Jones, CMP
Many of you will remember that the IPI Conference & Expo held earlier this year in Nashville oversold its sleeping room block until the hotel was completely sold out. While it's great to fill our contracted sleeping room block, we don't want our attendees having to commute to the Conference!
For 2017, we have booked sleeping rooms in six hotels, all within walking distance of the Ernest N. Morial Convention Center in New Orleans. All of the official hotels offer complimentary WiFi in guestrooms and four of them offer complimentary breakfast!
The hotel cut-off date is April 24, 2017. This is the date whereby if rooms are still available, the IPI-negotiated group rate will still be honored. To be clear, it does not mean that rooms themselves are guaranteed to be available until April 24.
Finally, in this age of cyber crime and identity theft, we have all been taught to beware of phone scams. For example, we've been assured that the IRS would never call us and ask for personal information or demand payment information over the phone. Similarly, if you receive a phone call from someone purporting to be the official housing agency for the IPI Conference, please do not engage with them and definitely do not book your room(s) by phone with such a caller. They may get your credit card information and not really book a room for you.
The best method to book your sleeping room for the IPI Conference and Expo is by using the custom links on the Hotel & Travel page of the IPI conference website. If you have any difficulty booking your room(s) or have any questions, please contact me at mjones@parking.org or 571.699.3006. I'm happy to help.
Michelle W. Jones, CMP, is IPI's director of convention and meeting services.