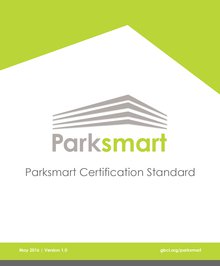 Parksmart Certification Standard is the detailed reference manual for Parksmart certification (formerly Green Garage Certification), the transformational rating system defining and recognizing sustainable practices in parking structure management, programming, design, and technology.
The standard contains technical requirements for each of the 48 discrete elements of the program, including descriptions, options for achieving recognition, documentation requirements, and industry and reference standards.
Certification is open to all types of structured parking facilities including commercial, university, municipal, hospital, retail and hospitality.
Pricing:
Hardcopy: $219 (Member pricing: $169)
PDF: $149 (Member pricing: $99)
Purchase a copy of the Parksmart Certification Standard.
The Parksmart Certification Standard is used in conjunction with the Guide to Parksmart Certification, a regularly updated, free document explaining the application process, achievement levels, program costs and any program updates. Learn more about Parksmart.