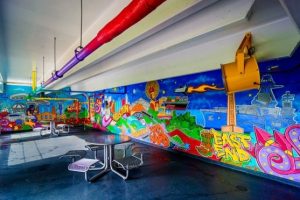 By Lauren Nelson
It took a bit of persuasion but a beautiful mural in an usually overlooked area is becoming a tourist attraction. Garage placemaking is a trend sweeping the parking industry. Stimulated by the green garage movement Parksmart, the idea of placemaking helps people see the garage as part of the community.
Check out the Williams Tower Garage in Houston. The idea was to develop the smoking area into something different.
After getting approval for the project, Gonzo 247, also known as Miguel Enrique Gonzo Figueroa Jr., was hired. Gonzo 247's artwork is found at the Houston Public Library, Rice University, The George R. Brown Convention Center, and Houston's historic Market Square.
Williams Tower, with its stunning water wall and beautiful park (both gifted to the city by the Hines family), has become a significant tourist attraction. Gonzo's mural adds a stop to Williams Tower visitors and makes the garage a unique place to visit. Not only has art enhanced the appearance of the garage, it has tied the facility into the city's growing artistic culture. Graffiti murals with their eye-catching colors are appearing across Houston. Gonzo's mural contains unique depictions of Houston landmarks and iconic sports facilities, neighborhoods, NASA, and even the Houston Livestock Show and Rodeo. A colorful image of Williams Tower and the water wall is strategically placed in the mural.
The practical isn't missed, either. The beautified smoking area has significantly reduced cigarette butts not only in the garage but in other parts of the property, and the area is one of the few places smokers and non-smokers mix—it has excellent air circulation to help. The mural has also attracted families. As the holidays approach, families stop by for holiday photos with the mural as a uniquely Houston backdrop. Garages are rarely destinations but the Williams Tower garage is becoming a must-see stop in Houston.
Lauren Nelson is senior operations manager with Winpark.