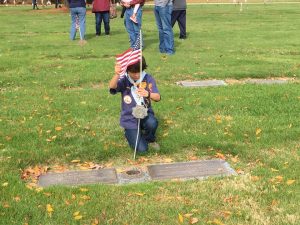 By Kathleen Federici, MEd
Growing up in a house with a father who was in the Navy was interesting. I got to hear the stories and re-live the patriotic duties my dad was assigned.
He was one of the Navy crew aboard the USS Lake Champlain aircraft carrier commissioned June 3, 1945. My dad participated in the Gemini space projects recoveries, aircraft recoveries, and the monitoring and neutralizing of Russian submarines. The experience of living with a Navy dad allowed me to really enjoy working for boss who served in the Navy on a submarine for almost a decade. Whenever I sent him an email, I would get a one-word response: "Done." Military streamlined efficiency was key.
This Veterans Day is a great reminder of the immeasurable sacrifices American veterans gave for our country, family, and values. The 2016 Veterans Day theme is "Courage – Honoring All Who Served." I try to teach my son that same respect for country and everyone in it that I grew up with. Recently, my son completed a service project replacing torn and faded American flags at the gravestones of American veterans. We honor all who have served.
I personally want to extend a thank-you to all veterans. One way we can all thank a veteran is by finding a local veteran's group or organization and help them out however possible. As John F. Kennedy said, "As we express our gratitude, we must never forget that the highest appreciation is not to utter words, but to live by them."
Kathleen Federici, MEd, is IPI's director of professional development.