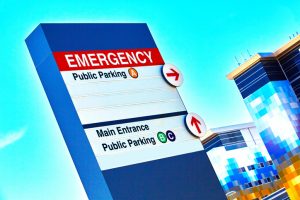 By Chris McKenty
Hospitals find themselves under continuous competitive pressure and are constantly looking for ways to attract new patients. One great way to do that is by making the parking experience easier.
Automating access control equipment appeals to patients who hate having to wait in line to leave a garage. The quicker they can get in and out of a parking garage, the more likely they are to return to that facility the next time they need healthcare services. Automating can also save thousands of dollars a year by reducing the risk of theft and the number of staff required.
Single-space parking guidance systems appeal to patients who find themselves rushing to make appointments. Being guided directly to an open space rather than having to search for a space for 10 or 15 minutes can determine whether a patient makes his or her appointment on time and can be a difference-maker in determining how that patient feels about visiting the hospital.
Numerous parking apps have been introduced in recent years to help make parking more convenient, including mobile payment apps, validation solutions, and apps that send push notifications informing drivers exactly where available parking can be found. Hospitals already contact patients to remind them of upcoming appointments and confirm they will be there. Now they can also advise patients where to park in closest proximity to their appointment, permit them to reserve parking, and even guide them to the closest available spaces.
Finally, validations can help attract patients. Hospitals can create discount tickets or validations for various categories of patients, such as labor and delivery, emergency-room patients, those who qualify under the federal government's limited income guideline, and patients who are hospitalized for more than 10 consecutive days. Validation technology can simplify the process through automation, permitting patients to have their tickets scanned and immediately recorded, which is easier for them and hospitals.
Chris McKenty is vice president of sales and marketing for Sentry Control Systems.