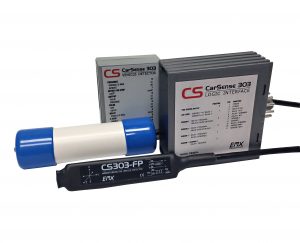 The CarSense CS303-L Logic Interface expands the application of the CS303 single cut vehicle detector into one channel, two channel and directional detection installations.
The flexibility of the CS303-L Logic Interface enables the user to configure it in a similar fashion as a single or two-channel inductive vehicle detector. The advantage of CS303 however lies in the fact that the sensors are less intrusive than an inductive loop and require less maintenance.
In a retrofit installation, the sensors may be installed in an old inductive loop cut or over the existing loops without any interference. No consideration is necessary regarding rebar since it has no operational influence on the CS303 magnetoresistive sensors.
The ability to operate the CS303 in a closing loop, vehicle counting and other inductive vehicle detector applications while benefiting from the CS303 advanced features such as Detect-On- Stop™ and detection axis optimization makes it the best choice for parking and access control applications.
EMX Industries has proudly manufactured its access control products in Cleveland, Ohio since 1987.
For additional information, visit www.emxinc.com  or email salessupport@emxinc.com.
Press contact:
Katie Beswick
Marketing Coordinator
k.beswick@emxinc.com