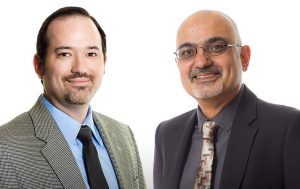 Brian Lozano to guide Walter P Moore's Parking Practice 
Armen Megerdoomian oversees West Coast Parking Practice
HOUSTON, TX — International engineering consultancy Walter P Moore announces that Brian Lozano, an 18-year industry veteran, will lead their firm-wide Parking Services group. In a simultaneous announcement, Armen Megerdoomian was named leader of the firm's booming west coast Parking Services practice.
A principal of the firm, Lozano has been instrumental in the growth of the firm's Parking Services team into one of the industry's strongest. He has established a reputation as an expert in creating parking solutions across a variety of sectors including healthcare, aviation, sports and entertainment, municipal, and mixed use projects. "Our parking solutions are intertwined with many of our other services, including traffic, structural engineering, and structural diagnostics. We take a holistic, life cycle approach to each project, benefiting owners, operators, and end users alike," said Lozano of of the firm's Parking team.
Lozano's results-oriented approach was recently recognized by the National Parking Association, who named him a 2016 'Top 40 Under 40,' highlighting his stature among the industry's best young parking professionals. He is certified as a Project Management Professional (PMP) and is active in the Texas Parking & Transportation Association, Project Management Institute, and the International Parking Institute.
Megerdoomian joined Walter P Moore last fall and helped establish the firm's parking presence on the west coast. He has 21 years of diversified parking experience in all market sectors with a specialty in the design of parking structures for major mixed use developments. He is a sought-after speaker and noted author on a wide variety of parking topics. "Parking is the first and last experience for patrons who drive to almost any event or appointment — and we believe it should be a good one," says Megerdoomian. "Savvy owners understand that parking cannot be overlooked and may drive major development decisions."
Regarding the recent appointments, Lee Slade, Chairman of the Board and the Executive Director of the firm's Structures group (which also encompasses Parking Services), says "our parking leadership is in very good hands."
Walter P Moore's Parking Services team provides a comprehensive suite of integrated parking services that focus on creating, maintaining, and improving parking structures throughout their life cycle. The firm's parking projects have earned numerous distinctions for excellence in design, operational efficiency, and sustainability.
About Walter P Moore
Walter P Moore is an international company of engineers, innovators, and creative people who solve some of the world's most complex structural and infrastructure challenges. Providing structural, diagnostics, civil, traffic, parking, transportation, enclosure, and construction engineering services, they design solutions that are cost- and resource-efficient, forward-thinking, and help support and shape communities worldwide. Founded in 1931 and headquartered in Houston, Texas, Walter P Moore's 600+ professionals work across 16 U.S. offices and five international locations.
Editor's Note: There is no period after the 'P' in Walter P Moore.
###