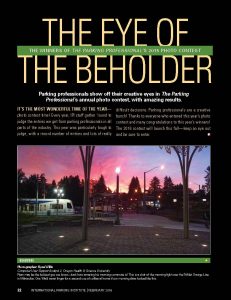 The Winners of the Parking Professional's 2015 Photo Contest
Parking professionals show off their creative eyes in The Parking Professional's annual photo contest, with amazing results.
IT'S THE MOST WONDERFUL TIME OF THE YEAR—photo contest time! Every year, IPI staff gather 'round to judge the entries we get from parking professionals in all parts of the industry. This year was particularly tough to judge, with a record number of entries and lots of really difficult decisions. Parking professionals are a creative bunch! Thanks to everyone who entered this year's photo contest and many congratulations to this  year's winners! The 2016 contest will launch this fall—keep an eye out and be sure to enter.
TPP-2016-02-The-Eye-of-the-Beholder