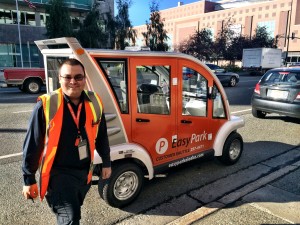 For Immediate Release
Contact: Melinda Gant
Phone: 297-4415
Email: mgant@acda.net
ANCHORAGE, Alaska, September 16, 2016 –
EasyPark announces the launch of downtown Anchorage's first parking Amenities Program. All guests in downtown Anchorage that park in any EasyPark garage or surface lot will have the option of utilizing free services such as personal escort to their vehicle, tire inflation and battery jump starts.
"Guests who come to downtown Anchorage experience the first and last touch-point with us and our goal is to provide convenient, clean and safe parking for all, said Brian Borguno, Parking Director of EasyPark." "We are investing in new parking technologies and programs that create a better parking experience for our visitors."
EasyPark's Amenities Program is available 7 days per week from 5am-midnight through our central dispatch center. Our personal escort service will pick up the customer and deliver them to their office or vehicle. In addition, our parking staff have been trained to assists guests to locate their parked vehicle, as well as provide car side assistance if they experience vehicle problems such as a dead battery or low tire pressure.
For those that require any of these services, just call or text the dispatch number 297-4471.
For more information about the Amenities Program, call EasyPark at 276-7275 or visit www.easyparkalaska.com for news updates about this and other new programs for downtown Anchorage.
About EasyPark
EasyPark is the brand name of the parking services operated by Anchorage Community Development Authority (ACDA). ACDA is a public corporate authority for the Municipality of Anchorage. ACDA's parking division, EasyPark, manages more than 6,000 parking spaces in downtown Anchorage.