Winters, Calif.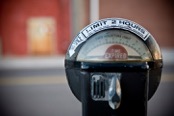 , is a tiny speck of a town whose charming, four-block-long business district found itself with a parking problem. Tourists discovered its beauty and hung around in on-street spaces so long that locals couldn't conduct their normal business. As parking professionals can predict, debates ensued—what to do?
Enter the parking meter. One parking meter. Installed last year by an anonymous townsperson to prove a point, the old meter quickly became an attraction of its own. People fed it dimes just to see what would happen. Parents brought their children to show them what this funky machine did. The media filmed it. And when it was taken down in February for repairs, there was an uproar. Because with no parking regulations, no
enforcement, and no need to park at this meter, it had become beloved.
The meter makes about $100 a year, which pays for part of the town's annual July 4 fireworks show. Read more about it here. But be warned: You might just fall in love. We know we did.