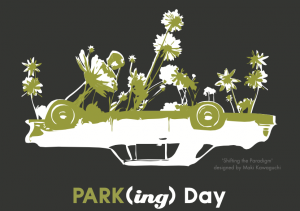 By Monica Arpino
What do a dog park, art installation, and yoga studio all have in common? If you said they're all delightful gathering spaces, you're correct but not quite on track. They all found temporary homes in metered parking spots, as part of the annual worldwide experiment known as Park(ing) Day.
Dreamed up by San Francisco art group Rebar, the event challenges the public to transform on-street parking spaces into pop-up parks — just for one day. This year it's happening on Friday, September 16, 2016, leaving you with just enough time to get in on the action.
If you're stumped for ideas, check out how some IPI members captured the spirit of Park(ing) Day 2015.
Forget parklet, how about "Barklet"? The City of Los Angeles rounded up dogs for adoption from L.A. Animal Services.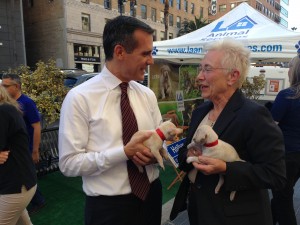 The City of New Haven celebrated its third consecutive Park(ing) Day with 11 metered spaces downtown, including one reserved for corn hole.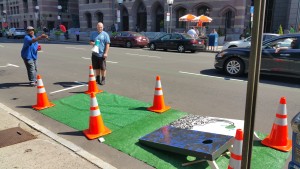 England-based ParkCloud epitomized its "Peace of Mind" theme as teams went head-to-head in yoga relays that doubled as fundraisers for charity.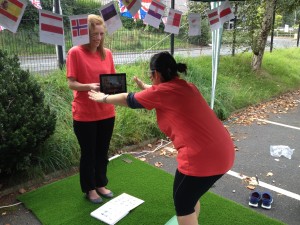 This Seattle Department of Transportation parklet was part immersive garden, part art installation.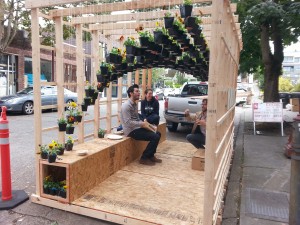 The Philadelphia Parking Authority celebrated Pope Francis' visit to the city with a parking meter decorated as "PopeBOT."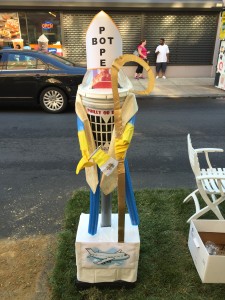 Ready to participate? Visit the Park(ing) Day website to register your mini park and see where other parklets are planned. On the big day, share your creation with IPI and it could be featured in The Parking Professional magazine. Send high-quality, original photos of your Park(ing) Day spaces to arpino@parking.org. Be sure to include a brief summary of your efforts (200-300 words), photo credit, and full contact information in case we need to follow up.
Monica Arpino is IPI's special projects coordinator.