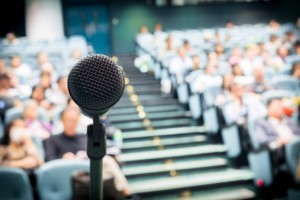 By Daniel Bliley
The IPI Conference & Expo features more than 3,000 people from more than 35 different countries. It's the world's biggest parking show. The red carpet, premier show. The best and brightest. It's the one event you can't afford to miss–and it needs you.
The open call for speaking presentations is going on now and there are many reasons to consider throwing your hat in the ring. Here are a few I learned after speaking at my first IPI Conference in Nashville.
Share Your Knowledge.
You've spent a year working on amazing things. Sometimes, it's easy to get lost in the day-to-day operations and forget all that has been accomplished and the experience you've gained. When you step back and reflect, the knowledge earned is valuable and worth sharing to improve the industry. It helps make everyone better.
Peer Brainstorming.
One of the most powerful benefits of speaking at the IPI Conference is connecting with your peers after you finish. Conversation is easily sparked over specific topics from the session and ideas start flowing. Not only are you able to help guide others, but you can get tips and pointers to take back and implement. It's a win-win scenario for you and your audience.
Move the Industry Forward.
We work in an amazing industry and having the opportunity to be a catalyst for innovation should not be taken lightly. IPI is a world stage and creating a session that affects the future of parking is essential for our future as a whole. Diverse ideas create a launch pad for breakthrough execution.
Personal and Company Exposure.
Sure, there is a little selfish component to speaking. Earning recognition is a vital piece in participating at conferences. It positions you as a leader and adds brand equity to your name and your company. You have a prime opportunity to share your expertise and gain a competitive advantage by getting into the hearts and minds of conference-goers.
It's time to start submitting, so don't hesitate. Think about all the hard work and lessons you've learned during the year and make a case for it. It's time well spent and you get a front row seat on the industry's biggest stage. So submit. Stand up. Speak your heart out.
And then go celebrate on Bourbon Street.
Daniel Bliley is director of marketing with Passport.