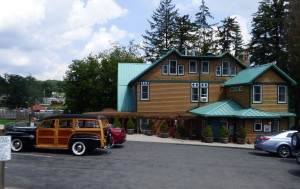 By Kim Fernandez
Pictured here is the Lake Pointe Inn, a charming waterfront B&B about two blocks from my regular summer vacation destination and happy place. Built as a family home in the late 1800s, the Craftsman-style mansion has been re-thought and re-made and sometimes ignored and abandoned over time, and was fully restored and opened as a bed and breakfast about 20 years ago; it's known for its historical charm, Frank Lloyd Wright-esque ambiance, outstanding guest service, and relaxing, old-world feel.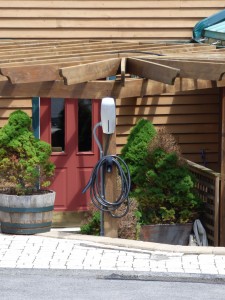 I walk my dog past the inn almost every day during vacation to peek at its beautiful front porch and maybe catch a glimpse of the gorgeous, fully-restored, 1946 Ford Woody Wagon that visits every summer (see it? Droolworthy). Guess what else I spied this year? Check it out—an EV charger hanging on a post at the front of the parking lot. The Inn has 10 rooms and 10 parking spaces and now its own charger, just in case someone needs it.
Historic mansion, arts & crafts décor, attentive staff, and electric vehicle charging. Some people just get it.
Kim Fernandez is editor of The Parking Professional.