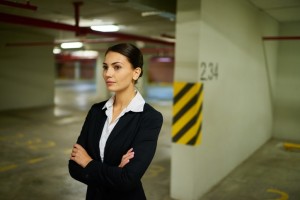 By Kathleen Federici, MEd
Who thinks about parking? How do we know people think about parking? What do people think about the general topic of parking? It seems the answers to these questions are all around us. Anytime someone goes anywhere, especially somewhere new, the question on their mind is, "Where do I park?"
I found myself at Drexel University in Philadelphia recently. The first question I asked, was "Where do I park?" The second question I thought about was pricing and what type of parking experience I might have—on- or off-street. I was not sure.
"Who thinks about parking?" and "How do I know people think about parking?" were easily answered that day at Drexel. I was fortunate enough to get a tour of the Charles D. Close School of Entrepreneurship. I walked in and met with two students who were not shy with their questions or their enthusiasm. My experience here was that the younger generation asked me anything that came to their minds and asked me in a way that felt like we'd been friends for years. I then was introduced to their Incubator. This is the setting where the magic happens and products and services come to life. I met a couple of students who are working on creating a new parking product for garages. The students had never heard of IPI before and had no idea a parking association existed. I schooled them. And at the end of that interaction, I realized that if these students are thinking of parking with such tenacity, others must be too.
How many other schools and students are creating parking solutions and products? This experience just helped in answering my questions of "Who thinks about parking?", "How do we know people think about parking?" and "What do they think about the general topic of parking?"
Kathleen Federici, MEd, is IPI's director of professional development.