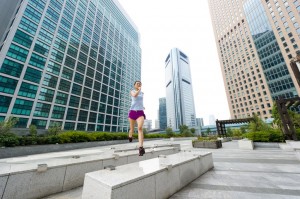 By Rachel Yoka, CAPP, LEED AP BD+C
So my car was in the shop — the fender-bender was not my fault in any way, of course.
One of the benefits of living in the city is the walkability that comes with the environment. Being out in the 'burbs, this is a disadvantage you get accustomed to. So when it came time for dinner, I announced that we were walking to the local pizza joint. Once we moved past the shock and awe of this statement as a family, I was required to map the distance on my phone (.6 miles each way). This great distance became surmountable when promised ice cream, and we had a lovely dinner (and a short walk roundtrip), but we also made some fairly obvious observations:
Walking without sidewalks (and with children) stinks. Aside from the speeding vehicles, we were honked at multiple times for making the egregious mistake of leaving a vehicle behind.
We have multiple helpful (nosy) neighbors who actually stopped me in the neighborhood to inquire "if we were o.k."
Parkour can be fun, over miscellaneous and inexplicable chains, concrete tees, and other barriers to any and all pedestrians placed throughout the parking lot and drive paths.
Although the parking professionals in our community may not be able to do much about the sidewalks or the neighbors, we can make the places we live, visit, and patronize more pedestrian-friendly, if only in our parking lots. Take a walk through your lots assuming the role of pedestrian, not driver, and see what you find. Parkour is not for everyone.
Rachel Yoka, CAPP, LEED AP BD+C, is IPI's vice president of program development.