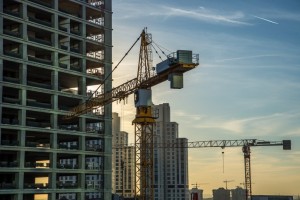 By Mike Uldrich
Urban environments have reached the tipping point for population mass and with little available land, there is an increased need for dense, vertical construction. With a need for multi-level developments and a high cost of available property, robust multi-level parking garage demand is high.
Parking structures tend to be built quickly with little time for procurement of material and long-lead items; however, pre-cast concrete, elevators, parking management systems and steel should be an early focus. Scheduling must be communicated clearly and team organization is required to ensure that underground foundations, utilities, site logistics, finishes, and critical construction milestones are flagged. Field staff must be aware of these milestones and understand the scheduling process to ensure work is being completed on time. This is best done by understanding critical work activities in detail and measuring production every day.
The following are key considerations for owners and building/design teams when building a parking structure.
Understand the contract drawings and specifications prior to addressing an access/egress plan.
Understand the needs of the working/traveling public in areas where construction staff needs to access/egress. This is not always clear in documents, and it is best done by visiting adjacent areas and speaking with public safety officials prior to construction.
Make the police, fire departments, and the city inspectors part of your team early. Be "social" and listen to their concerns about the impact the work area has on the public's safety. Contractor concerns should also be shared with these constituents early on so they clearly understand construction challenges and how they will impact their areas.
Establish field champions to patrol the perimeter frequently to ensure site and public security and safety.
Heavy haul trucks for stone/dirt, tractors, and other large equipment can be a challenge. Everyone must understand the protocol for vehicles entering and leaving the job site for public safety and cleanup. Flagmen, street sweepers, and signage should always be utilized with strict adherence to the stormwater pollution prevention plans (SWPPP).
Anticipate inconveniences such as weather and construction delays including large concrete pours that may make the construction site more congested or increase traffic.
Advise your client, the police, neighboring businesses, and residences as soon as possible to ensure these key stakeholder groups are informed, and share your plans with them for minimizing disruption.
Discussions with key stakeholders upfront in the design and construction process will lead to open communications. This dialogue leads to minimal disruption to facility operations and realizing your operational and revenue goals.
Mike Uldrich is a Dallas-based project director with McCarthy Building Companies, Inc.