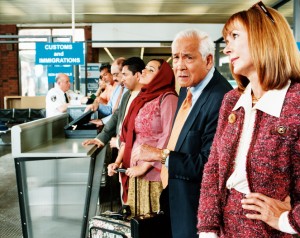 By Shawn Conrad, CAE
Summer travelers, business travelers, and both frequent and new travelers are all experiencing long lines at airport security screening checkpoints. Airports are advising travelers to arrive three hours prior to take-off because checkpoints lines can wind through security lines all the way through baggage claim. People are vocal as they complain about waiting in unbelievable long lines while local and national media capture the moments to share with millions of viewers.
While I unfortunately have experienced these long lines, I have gained a new perspective on this waiting game and now consider the alternative. This fresh perspective developed during a meeting I attended along with law enforcement officials from the Federal Bureau of Investigation, National Security Administration, state and local police, and Interpol. The meeting focused on providing safety and security management during stadium games and events where large numbers of spectators are vulnerable to criminal and terrorist activities.
My "aha" moment regarding wait times during airport travel occurred during a side conversation focused on airports across the globe where security measures are deficient or lacking. Twenty-year law enforcement officials spoke about the international airports they now avoid because they feel passengers there are not properly screened. It was noted that lines were short or non-existent and that security personnel were lackadaisical at best.
So now when I turn the corner and see a long and wavy line at the airport screening area, I take a deep breath, pull out my paperback, and relax knowing that everyone in front of me is going through a process intended to keep us all safe. Safe travels this fall and happy reading.
Shawn Conrad, CAE, is IPI's CEO.