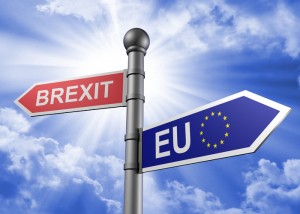 By Mark A. Vergenes
Everybody's talking about Brexit, but what does it mean for parking professionals and their investments?
The markets are down big, but it's not that bad. First, U.S. stocks and the pound are off overnight lows and European markets actually haven't violated last week's lows. The numbers are messy but it could be worse.
Europe is now toxic from an investment standpoint. For Great Britain, a messy two-year "divorce" will begin from the E.U. and a massive cloud of uncertainty will descend on that economy. Whether the Brexit will be good or bad for Britain or the E.U. economy remains unclear (and will stay that way for years). But, the bottom line is that businesses and people will become substantially more risk averse amidst all this uncertainty, and that sapping of risk taking and capital expenditure will be a headwind on economic growth in the region (recession).
This makes us cautious but not outright bearish. I am not wholesale reducing U.S. equity exposure on this news because the direction of U.S. stocks is more tied to the economy and valuation than Europe right over the medium and longer term. But there will be real-world impacts for the U.S.: Earnings for the commodity producers, banks, and multi-national exporters will all get hit and that further calls into question the $130 2017 EPS figure (which creates a valuation problem).
There are market winners and losers. Losers are exporters, banks/financials, and commodity-sensitive companies. Winners are treasuries and domestically focused U.S. stocks sectors.
This is not a bearish game-changer for U.S. stocks yet, but clearly the surging dollar and massive uncertainty will be a renewed headwind. We obviously remain cautious on stocks here but would not wholesale dump equities at this point.
Mark A. Vergenes is president of MIRUS Financial Partners and Chairman of the Board for the Lancaster Parking Authority.
Investment Advisor Representative offering securities and advisory services offered through Cetera Advisor Networks LLC., member FINRA/SIPC. Cetera is under separate ownership from any other named entity. MIRUS Financial Partners nor Cetera Advisor Networks LLC. give tax or legal advice.