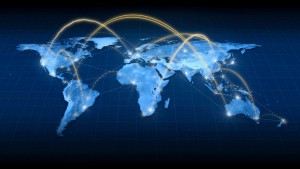 By L. Dennis Burns, CAPP
More and more, the work we are doing as parking professionals is highlighting the critical role that parking plays in helping to create functional and sustainable urban environments. Linking effective parking management as a key ingredient of sustainable urban mobility planning is becoming increasingly accepted as an international best practice.
As our world becomes more urbanized, the issues of traffic congestion, parking, and access management are amplified. Providing accessible and multimodal options such as ride sharing, car sharing, public transportation, etc., via mobility apps and other innovative strategies creates opportunities to make different choices that can result in less personal vehicle usage and therefore, less congestion, energy usage, and pollution.
Our clients have been asking us to broaden our perspectives when it comes to identifying best practices in urban mobility planning, and for good reason. There are many places in the world that have long been dealing with many of the congestion and high-density issues that many U.S. communities are just beginning to grapple with. As a result we have been researching a wide range of international resources in this area. One example is way the European Commission has emphasized in many of its transport-related policy documents (such as the Action Plan on Urban Mobility, the White Paper: Roadmap to a Single European Transport Area and the Urban Mobility Package). These documents promote strategic approaches and the integration of transport planning policies with other policy sectors like environmental protection, land-use planning, housing, social aspects of accessibility and mobility, as well as economic development.
According to the Institute for Transportation and Development Policy, "There is wide consensus that sustainable urban mobility planning contributes to a better quality of life and is a way of tackling transport-related problems in cities more strategically. Sustainable transport modes, which include cleaner vehicles and public transport as well as cycling, walking, and intermodal modes such as taxi and car sharing, should play a major role in future urban transport systems."
The document "Guidelines for Developing and Implementing a Sustainable Urban Mobility Plan" outlines which steps are essential for sustainable urban mobility planning and includes best practice examples, tools, and references for each step. The document is aimed at practitioners in urban transport and mobility as well as other stakeholders who are involved in the planning process and implementation of Sustainable Urban Mobility Plans (SUMPs). Experiences show that an approved SUMP in a city facilitates the development of environmentally sound, efficient, and accessible transport systems for decision-makers and planning authorities considerably.
I encourage all parking professionals to broaden your perspective on the mobility management aspects of your local community's planning issues. This small investment can provide you with both an increased understanding of the issues and potential solutions from around the globe as well as enhancing your reputation as a well-informed community resource.
Dennis Burns, CAPP, is regional vice president with Kimley-Horn.