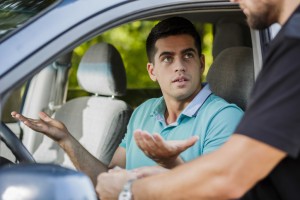 By Brett Wood, PE, CAPP
"You don't know ANYTHING." That's how this all started. Innocently enough, in conversation with someone I considered a friend, I was told that I didn't know anything about parking operations. In a few breaths, a challenge was thrown out and quickly accepted. I, the parking consultant who built his career on parking management and demand reduction, would join the ranks of the frontline. That friend—Brandy Stanley of the City of Las Vegas—had side-handedly invited me to join her staff for a parking internship.
My internship was to run the length of a few days—much shorter than those that shape our young apprentices, but long enough to nearly kill me multiple times. During the course of four days in Las Vegas I worked in the administrative department, maintenance, meter technology, customer service, event management, and enforcement. In those same four days, I also was involved in several interactions with parking patrons (good and bad), a police standoff (with guns drawn), and setting my hand on fire (cutting down sign poles). Eventful is an understatement.
My favorite role was enforcement. I really enjoyed the interaction with customers, uncovering violations, and helping manage parking through regulation. I helped write a lot of tickets, but more importantly I observed as staff went out of their way to NOT write tickets. They gave Las Vegas patrons every chance to correct a bad parking situation or remedy mistakes. It was truly incredible watching staff diffuse situations, assist patrons, and own their jobs as enforcement staff as well as Downtown Las Vegas Ambassadors.
I really didn't know what to expect from the adventure and thought it would be great to see people at work while people watching in Las Vegas. But I came away from the experience enriched by the people I worked with and the progress Brandy had made creating an amazing organization. In particular, these themes continued to emerge:
The City of Las Vegas has a full-service parking organization; Brandy has assembled all groups who touch parking under one operation with one vision. Team members have bought in and work within their roles as well as outside of their normal duties to make things great.
The employees take ownership and are given the authority to do their job as they see fit. Everyone is also given the tools they need to do their job and support the primary mission of the team.
The employees are also involved in decision-making, which provides more ownership in their jobs. Staff are given the opportunity to champion special projects and the pride they take in their work is unparalleled.
Most importantly, Customer Service is King! Everything Brandy and staff do is focused on the customer and staff are given the latitude to work with the customer to find the right solution. While customers aren't always right, they are treated in a way that helps to promote consistent and positive experiences.
My main takeaway is that great parking programs are built from the ground up. The staff who are dealing with your customers are the face of the program and their passion for their job can really turn an ordinary parking organization into an exceptional one!
Brett Wood, PE, CAPP, is a parking and transportation planner with Kimley-Horn.