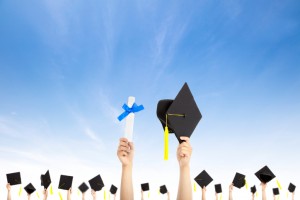 By Jason M. Jones
Each year during commencement, many of us are faced with the daunting prospect of parking more vehicles then we are used to. Friends and family of graduates are often overcome with joy, selecting their best outfits and booking hotel rooms well in advance. Additionally, many staff look forward to this day for many reasons; the student we mentored, the person who rode the bus for four years, meeting the work-study's parents. But what happens when the anticipated experience does not match the actual experience? Possibly it is 40 degrees outside and windy as opposed to 80 degrees and sunny. Perhaps the parking lot they had scouted out for months is now full, forcing them to locate a different area. Maybe there was an incident on the roadway network making the family late not to mention the kids and spouse barking because "we told you we needed to leave earlier." These are all common examples of what we are faced with on this special day. What can you do to better the experience when they arrive?
Enlist parking-lot volunteers to hand out pocket-sized parking lot identifiers to guests. As a result, they will remember where they are parked at the end of a long day. We may know our campus but what about someone that has been here just two or three times in four years or maybe has never set foot on campus?
Provide transportation between the university and local hotels in an effort to minimize traffic congestion, reduce carbon emissions, create more parking, and provide a better overall guest experience. During the last two years, we have transported thousands of passengers to and from hotels, which has had a significant positive impact on our exercises. Just leave your hotel, board a bus, get dropped off and picked up at the ceremony site, and it is that easy.
Only operate buses from parking lots that are more than a five- to eight-minute walk from the ceremony. Because of traffic congestion, it would take us nearly 30 minutes on a bus to travel the same distance. As a supplement, we provide golf carts to the closer lots to those that appear in need.
Conduct commencement-specific staff training two weeks in advance of the event and publish it through a social outreach campaign. Let your campus and soon-to-be guests know that you are getting ready for the big day.
Allow your staff to wear comfortable clothing, which will improve staff morale on what seems to be a never-ending, multi-day event. Yes, commencement is a very special but tell me this: Does a staff member look better in a polo shirt and khaki shorts or sweating openly in a long-sleeve shirt and tie?
Over the years, I have experienced many commencements both as student and staff. Every year is different, but every year is the same. Knowing commencement has passed for many of us, it is a good time to highlight ideas that may assist you in your planning next year.
Jason M. Jones is director of parking and mass transit services at the University at Albany.