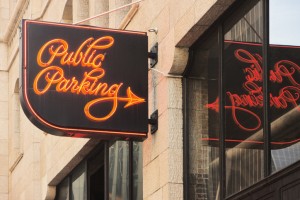 By Larry J. Cohen, CAPP
We've all heard and mostly agree that "we didn't grow up wanting to be parking professionals." My story is no different. But in many ways, parking saved my life and maybe yours as well.
I was a fairly adventurous kid, attended a high-achieving high school, and was less focused on grades than just enjoying the day. Even through college, I had a hard time finding a passion. My experience as a business major hit a roadblock when I had to take corporate finance accounting—I was told it was the make-or-break class, and I broke. So I eventually changed majors to mass communications and actually made it through college with honors. But then I jumped around from potential career to potential career. It is tough when you don't have that career focus and passion of what you want to do with your life. There was no clear path in sight and I was truly depressed.
I always enjoyed my part-time job as a valet parking attendant. I started as soon as I obtained my driver's license at 16 years old and continued working through high school and college to pay bills.
Could a love for a part-time job actually turn my life around and become a full-time career? Luckily for me, and hopefully you, the answer was YES. So I started my journey as a full-time location manager for the company I had worked with since high school and was promoted to an area manager. Eventually, I opened my own successful valet business, even providing parking for our professional teams before selling it years later. After some time to reflect, consult, venture into some other businesses, and paint the house, I missed parking.
Fast-forward to a 30-year career that has been a great ride (no pun intended). Our profession touches on so many aspects of business. It is challenging and rewarding every day. As you know, the scope of responsibility includes dealing with personnel, the public, economic development, design, and cash handling to name a few skills we all need. As I tell anyone who asks, if you could find a job that is great 90 percent of the time, would you take it? The answer is YES!
I truly believe the parking profession saved my life. I hope it has done the same for you!
Larry J. Cohen, CAPP, is executive director of the Lancaster (PA) Parking Authority and president of The Middle Atlantic Parking Association.